MacroView Document Management System
Unlock the power of Microsoft Office 365 with MacroView's award-winning solutions for generating and managing documents and emails.
By enhancing the integration between Microsoft SharePoint and familiar applications such as Microsoft Office®, Adobe Reader®, and Microsoft Windows®, MacroView provides the legal document management functionality and user experience that legal users require in order to work efficiently.
CASE AND MATTER MANAGEMENT
A document and email management system that enables law firms & legal departments to become effectively paperless.
Creates a virtual client-matter set of emails and documents, eliminating the need for paper files, enabling the successful paper-less transformation of law offices
Rich filtering, grouping, search and retrieval capabilities enabled by powerful metadata auto-profiling by document type
Adds more functionality into Outlook, e.g. one-click functions converting emails or email attachments into PDF
Ease of use as users work in familiar applications e.g. MS Outlook, Word, Acrobat Reader
Uses the powerful Office 365 SharePoint search engine to search across the document set by matter, client, document type, keywords, and email metadata
Provides unique document numbering, version control, and access permissions usually associated with more expensive legal document management systems
Formatted previews of emails, office and PDF documents facilitates efficient document review and retrieval
Makes great use of your 1 terabyte storage entitlement on Office 365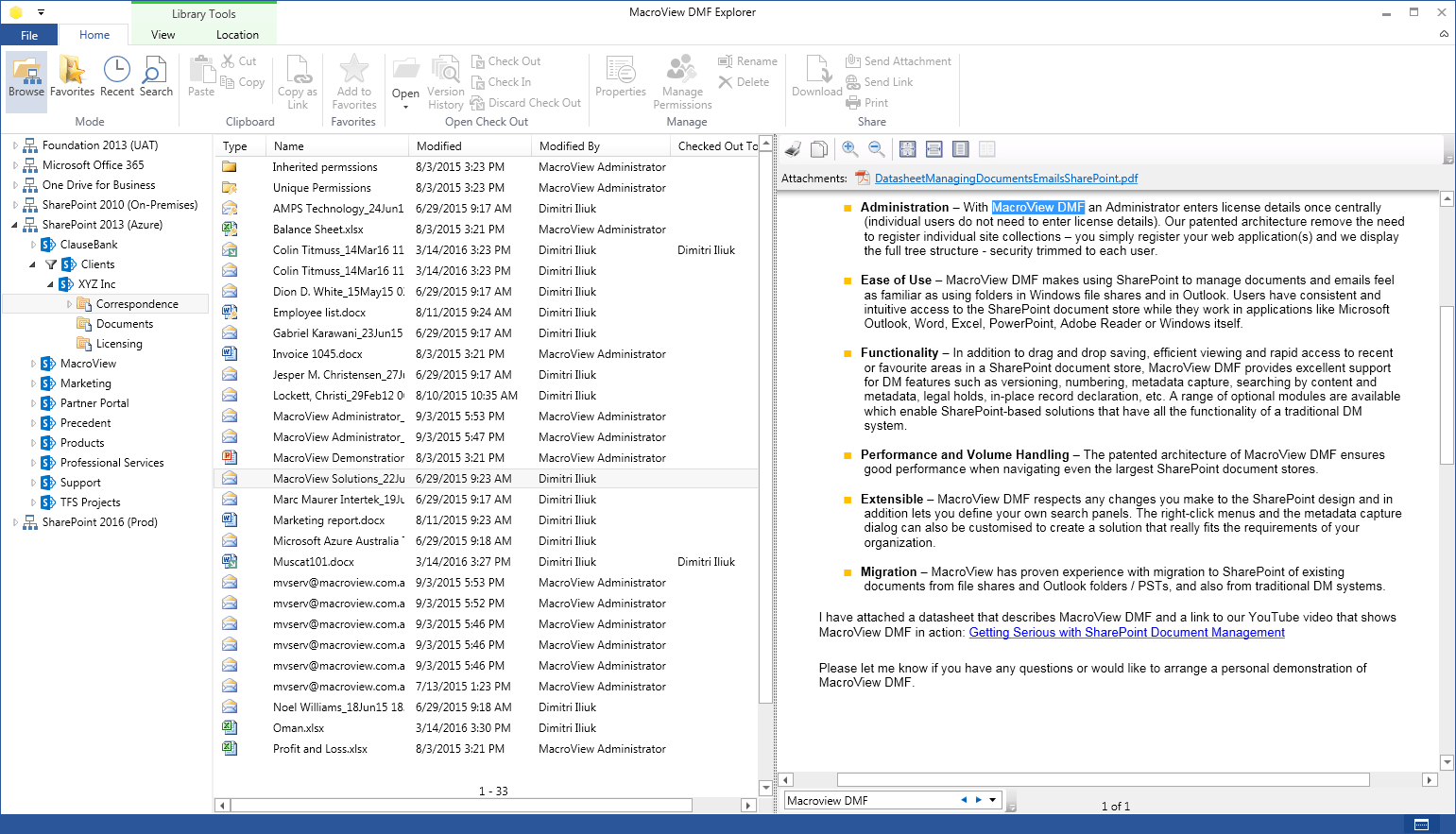 User Interface
MacroView Document Management System
CLAUSEBANK
A centralised clause library solution that enables centralised upkeep and usage of templated clauses.
Runs in Microsoft Word, PowerPoint and Outlook ribbons
Automates quick insertion of consistently formatted clauses into documents
Automated scheduling processes for clause review
Enables users to submit Clauses into centralised repository, for approval
BENEFITS OF MACROVIEW
Familiar, Intuitive User Experience
Advanced Document Management Functionality
Powerful, Flexible Search
Convenient Document Generation
Facilitates Document Collaboration
Management of Cases/Matters/Projects
Please contact us to discuss how MacroView can improve the workflow of your law firm.