The Bizibody Team
The Bizibody team includes the original pioneers of the legal technology and practice management consulting industry in Singapore. Bizibody consultants are former lawyers, practice and knowledge managers, bookkeeping and secretarial executives, web programmers, and IT engineers. This diversity allows us to provide an integrated approach to servicing our clients. The Bizibody team is led by a team of lawyers and legal technologists.
Serena Lim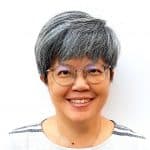 Serena is the founder and Director of Bizibody, Litigation Edge, and several other companies. Her group of companies services over 250 law firms in Singapore and Malaysia.
As a legal technology and litigation support consultant to law firms, Serena has been helping small and mid-size law firms integrate technology into their practices for over 15 years. Prior to starting Bizibody in 2000, she was the managing partner of Khattar Wong & Partners' (now Withers KhattarWong LLP) Hong Kong office and specialised in corporate and real estate law.
Serena's legal background, daily dealings with her law firm clients, and her fascination with technology and business trends gives her a bird's eye view of the impact of the information revolution on legal practice, and what law firms need in order to continue to thrive.
Her work includes technology projects to automate standardised processes, increase efficiency and, increasingly, create new business models and new ways of delivering legal services.
Serena works closely with the Law Society of Singapore, the Singapore Academy of Law, and the Singapore Judiciary. She has also contributed to the design and delivery of practice management courses at the Temasek Business School and the Law Society of Singapore.
Jens Brokob
Jens has over 20 years of experience in internet application development and website design. Proficient in PHP, familiar with ASP.net, and knowledgeable in Linux server administration and Amazon Web Services, Jens has been instrumental in helping Bizibody develop a creative edge in web application design for law firms and legal institutions.
Jens was the lead programmer for several groundbreaking Bizibody applications, including the Singapore Law Courts Justice Online system and the Singapore Academy of Law's Lawnet Legal Prospector. He is currently spearheading the development of Law Cloud, a cloud-based legal case management system.
TAN Kok Siong
Kok Siong is a Bizibody veteran and has been overseeing the implementation and technical support of all the legal technology applications we provide to law firms since 2002. He is the product specialist of our document management and assembly solutions, Worldox and Hotdocs, and also project manages the in-house development of solutions that are developed by the Bizibody team, including LawCloud and bespoke technology developments for legal institutions.
Kok Siong has almost 20 years of experience in IT support and management service. His broad-based IT knowledge, combined with his easy manner and extensive experience working with the legal industry, has earned him great praise from clients and colleagues.